Michele Gila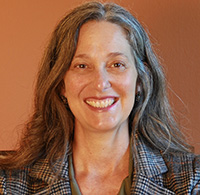 Realtor®, Principal Broker, AHWD, GRI, HOWNW Certified Specialist, Owner
In the fall of 2003, Mark Wheeler and I opened our own Brokerage, Roots Realty. Prior to Roots I worked for several other brokerages, beginning in 1995 when I first was licensed. My focus through all the years has been assisting my clients in achieving their real estate goals, through education and networking.
Portland's sustainability is very important to me. My work is a reflection of my continued efforts as an Activist. One of the best aspects of being a Realtor is networking with my clients, sharing ideas and skills; bringing people together. Growing up in California in a city with open-minded family and friends enabled me to recognize the beauty of diversity at a young age and I work hard daily to bring about positive change in our community. I am a firm believer in real estate counseling and education for my clients. The more my clients understand the process and the decisions they get to make, the smoother the whole transaction will be. The energy I give to the transaction has given me the gift of a referral business, for which I am deeply grateful.
In addition to helping buyer and sellers achieve their goals, my work includes managing Roots Realty. I am also actively involved in our Realtor organizations where volunteering my time gives me the chance to shape the way the modern Realtor works. I recently served as a Director for the Portland Metropolitan Association of Realtors and also currently serve as a PAC Trustee and am the Chairperson for this committee for 2017. I was the 2014 Vice President of Governmental Affairs for PMAR, and as such served as a liaison between the Executive Committee and Governmental Affairs & Brokerage Risk Management Committees. I was the VP of Member Service for PMAR in 2012, and recently completed my term for the Oregon Real Estate Forms Company, where I served as the 2012 & 2013 Treasurer. Currently I'm on the Board of Directors for the Regional Multiple Listing Service, where I serve as Treasurer. I truly enjoy my civic involvement!
My time away from real estate is spent gardening, white water rafting, reading & writing, mushroom collecting, playing with our cat Mustapha and concocting potions in the kitchen while listening to music. I love being a daughter, a sister, an Aunt, a friend.