23rd Annual SOLVE it!
April 24, 2012, by Michele Gila
On Saturday April 21, Roots Realty organized a crew of 12 experienced paddlers to participate once again in the SOLV Sandy River clean up. We started volunteering with SOLV four years ago to clean the section of the river that has one class III and many class II rapids, Dodge Park to Oxbow Park, because we are experienced whitewater enthusiasts and our organizer Russ knew we were cut out for the job. He probably didn't realize we'd love it so much that we'd return year after year.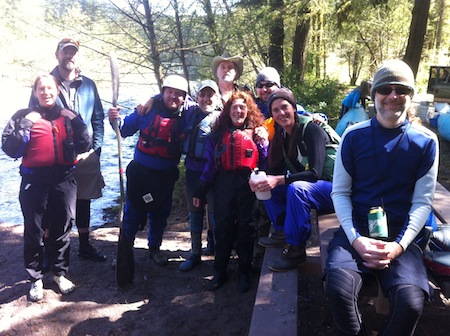 Dodge Park sits at the confluence of the Bull Run & Sandy Rivers, just north of Sandy, Oregon. The source of Portland's pristine drinking water is the Bull Run River, and the first whitewater of the day, Pipeline Rapids, is a class III rapid named for the large water pipe that crosses the Sandy River here before heading downhill to Powell Butte.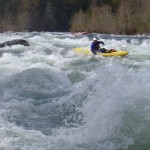 It can be tricky in the summer due to low water levels. But this time of year, it's a fun & bumpy ride, with the large boulders that are so hazardous in summer now completely submerged. The giant hole at the bottom is still there, so plenty of opportunity to get your passengers soaked. 
If you're a Portland area local you know that this past weekend was glorious, with record breaking warm temperatures. While that causes some concern, it was a treat to be on the river on a warm, sunny spring day. It made picking up trash more fun somehow. And did we ever get some trash. Twelve humans, four oar boats and one kayak can haul a lot of trash. One highlight was that we broke our tire record. In previous years we have pulled as many as 7 tires from the river banks, but this year, we found 9! There was also a 45 MPH sign still on its post, miles of monofilament from the fishing community, abandoned undergarments, yet another buried sleeping bag, and a deflated earth ball and raft.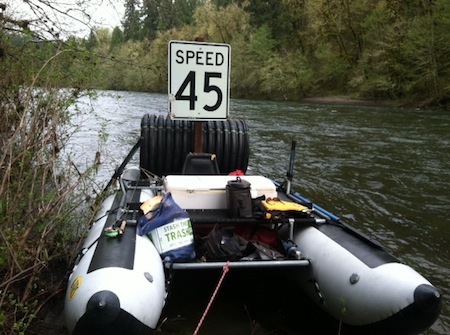 Typically I'm very prepared to run a river. However I was not quite feeling myself and left my entire paddle bag next to the back door, which held my splash pants and top, extra water, dry clothes and my waterproof camera. So this year I did not capture as many photos as I would have liked. At one beach there seemed to be an unusual amount of broken beer bottles. So on our hands and knees we scoured the beach, picking up every shard. Broken glass is not friendly to inflatable boats or bare feet afterall. But what had more impact on me was finding the Rough-skinned newt (Tarcha granulosa) crawling amidst the broken glass. The sudden thought that this sweet little guy could cut his foot or belly on this glass had a heart-wrenching affect on me. The carelessness of just one bottle broken and left behind, while certainly not toxic trash, can still have a profound affect on the environment. Glass doesn't belong on the river. Leave only footprints. If only I had my camera!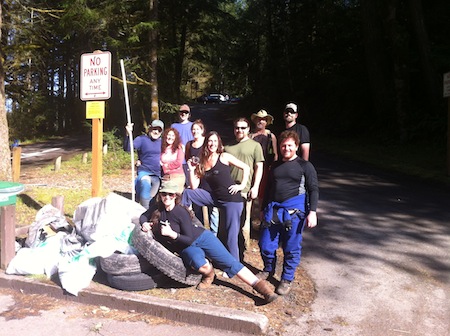 This year SOLV brought together about 6,300 volunteers all across Oregon for Earth Day. Approximately 6,000 native trees and shrubs were planted in parks, on school grounds and in natural areas. We removed approximately 140,000 pounds of mixed waste from neighborhoods and natural areas. Recycled 7,000 prounds of plastic, glass, paper and metal. Removed invasive non-native vegetation from 23 acres of land. And collected and recycled 380 tires, 9 of which we found in just our 12 mile stretch of river. Imagine.
While it would be easy to be discouraged finding so much trash along our route, we really do have fun. You get in the groove and your eyes take focus and start to notice objects more apparently that do not belong in the naturescape. There seems to be an unspoken race for who can find the first tire of the day. We have also found, having cleaned this section for many years, that we're actually having impact. Trash seems less scattered and instead, focused on many beaches where there is easy foot access. One year at a time, we're making a difference.