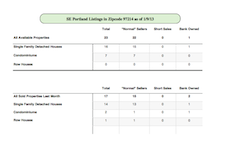 How's the Market? January 2013 Update
January 9, 2013, by Mark Wheeler
People ask us all the time, "How's the market?" For some it is small talk, while others are actively considering buying or selling some real estate. Most folks have tuned into the news lately that says there is a lack of inventory that is making it a Sellers' Market. The amount of available inventory these days is about 2 months*, when looking at the entire Portland Metro area. Most folks consider about 6 months inventory a balanced market. Less than 6 months tends to be a seller's market, more than 6 months tends to be a buyer's market.
However, in the close in neighborhoods where we work & live, the inventory is even more scarce. When looking at sales in the last year versus available properties throughout the close in SE Portland zip code 97214, there is currently only 1.2 months of available inventory. Somewhat surprisingly, only one of these is bank owned & none of these are short sales. A chart showing the break down by type of property (single family house, condo, or row house) & type of seller ("normal" non-distressed seller, short seller, or bank seller) is here.
Zip code 97214 includes the Richmond, Sunnyside, & Buckman neighborhoods. Richmond is often informally called the Hawthorne &/or Division neighborhood. Sunnyside is often referred to as the Belmont area. 97214 is basically Burnside south to Division, and 42nd Avenue west to the river. These 3 neighborhoods are very similar in popularity, pricing & style of homes, although of course there are variations throughout. Zip code 97214 is also very similar in popularity, pricing & style of homes to several other close in zip codes in Portland, which makes it a useful starting point for market research.
As active home shoppers know, once you view these available properties in person & weed out the quality ones from the not so desirable ones, the number of properties to choose from becomes extremely slim. This means that buyers these days need to be well prepared, ready & able to move quickly and be willing to offer terms that a seller will find attractive.
I can run statistics searches in a variety of ways, but one easy way to see what's going on in a specific area is to look at the zip code using Altos Reports. I receive updated versions of these weekly. This last week's copy for zip code 97214 is attached here.
Please contact us if you have any questions or would like more information. Thank you!
*All Portland available properties = 1497 as of today 1/9/13. All sold properties last year = 8943, divide by 12 months = 745.25 properties sold per month (average). 1497 / 745.25 = about  2 months of available inventory. This statistic tells us that at the current rate of sales, if nothing new entered the market, it would take 2 months to exhaust the inventory. I see various media saying inventory stands at about 4 – 6 months depending on who you ask, but this accounts for the entire three county Portland Metro area which includes several other cities and many suburbs.