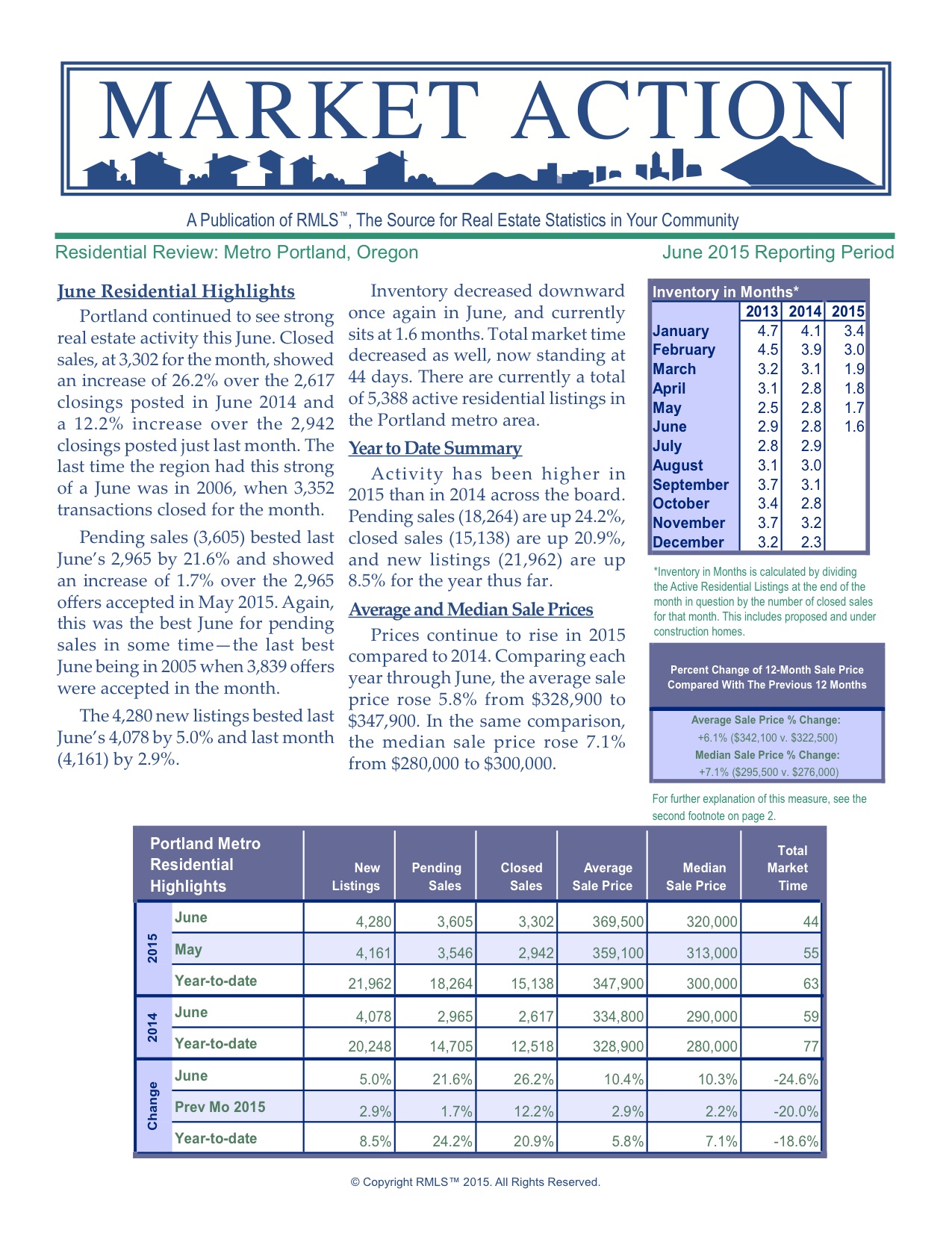 Absorption Rates in Portland Autumn 2015
August 3, 2015, by Mark Wheeler
Time for another look at the Portland housing market! If you talk to anyone involved in buying or selling real estate in Portland right now, the word "crazy" is bound to be heard, and that is definitely our experience in this time of low inventory, multiple offers & frazzled buyers.
Absorption rate is a way to track how many real estate listings are on the market versus how many listings are selling within any given period of time. It looks at monthly inventory; in other words, how many months would it take for all of the available listings to sell, if no new listings entered the market. Of course this is hypothetical, but it can be a revealing statistic that helps to identify trends. About 6 months of available housing inventory is typically considered "balanced," neither a strong buyers' market nor a strong sellers' market. Both are approximately equal at about 6 months of inventory. Under 6 months points to a sellers' advantage in the market, over 6 months indicates buyer advantage.
I like to look at the absorption rate of a specific area, looking at a specific type of real estate, and within specific price points. For today, I wanted to know exactly what is going on with SE Portland single family detached housing listings & sales during this summer of 2015.
First I looked at all of "Close In SE Portland" as commonly defined by zip codes 97214, 97215, 97202 & 97206. Then I narrowed the results down to only the areas that tend to be the most popular in SE Portland; these can very generally be defined by zip codes 97214, 97215 & 97202. Then I looked at 97206 specifically because that tends to be a different housing market & a more affordable part of SE Portland.
As of today, 8/3/15, in zipcodes 97214, 97215, & 97202 there are 85 available properties, and 86 properties have sold within last month. This means there is just under one month of inventory which is considered very low, and a very strong sellers' market. The average list price is $576,126 & the median list price is $565,000.
In zipcode 97206 there are 83 available properties, and 81 properties have sold within last month which is just over one month of inventory, but at a different price point. The average list price is about $340k, & the median list price is about $300k.
If you run this same search but take out any listings that have big problems, the statistics get even tighter, with even lower inventory numbers & higher final price to list price ratios. Most houses are selling very quickly right now, usually under a week & with multiple offers for well over the list price. The last offer I wrote was for a property that received 16 offers, which is pretty typical these days. We commonly see offers that are 10 – 20% over the list price. We are also seeing buyers waive appraisal & inspection contingencies which are generally considered to be very aggressive & risky strategies for most buyers.
I can run these numbers for any area around the Portland Metro region, and for almost any type of property. If you have any questions or comments, please contact me directly.
Thanks for reading!