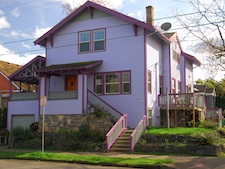 Purple Pride in the Heart of SE Portland
March 22, 2012, by Michele Gila
We invite you to take a peek at this completely remodeled home, located right in the heart of SE Portland. On the Lincoln bike route, you can enjoy putting less miles on your car and have the freedom of commuting safely by bike. Nestled between SE Hawthorne and SE Division in the Richmond Neighborhood, groceries, cafes, shops and public transportation are all within 1/4 mile, earning a Walkscore of 88.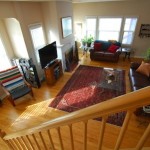 Originally constructed in 1907, then completely remodeled in 2003 using many of the concepts and systems implemented with today's green buildings. With residential real estate being one of the city's main contributors to green house gas emissions, you might find the updated systems here worth considering. For starters, the entire house has been insulated and all new double-paned vinyl windows installed. There is also 90%+ forced air gas heating & cooling system, new water line bringing in enough volume of water that then passes through 2 inline filters, offering enough clean water flow that you can control at the fixture for optimal water savings. A new sewer line was also installed. No new land was used for this home, as it is sited on the original parcel. 
Another feature of this home that makes it a sustainble choice for many people is that during the '03 remodel, the entire home was lifted creating a lower level with 8.5″ ceilings. It has a sidewalk level, outside entrance, and west facing windows bringing in natural light. This part of the home has a living room and a heated bonus room with large closet, plus a full bathroom and the potential for a full kitchen. (City of Portland would need to be involved to obtain permits to make it a legal Accessory Dwelling Unit – ADU.) Many people today are considering Multi-Generational Housing to combine resources and share experiences. Others are considering the need to generate income to offset the costs of their mortgage payments. There are also the families welcoming home a disabled Veteran who might have special needs that this part of the home could be altered to accommodate. See Hownw.com for more information on those programs. With its own entrance, it could even make an ideal home business for a massage therapist or graphic designer or nutritional therapist. You get the point! For more information about having a home business, click here. 
And then there's just the enjoyment of a natural light filled living room with original entryway & fireplace, the spacious and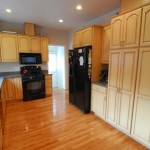 stylish kitchen, the dining room with door to the covered deck where a hot tub awaits you and plenty of room for outdoor dinner parties. A main level bedroom and full bathroom provide yet another option for having a housemate or family member who would appreciate having most services on the main level. Other than the tile floor in the bathroom, the entire main level has hardwood floors.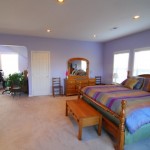 Upstairs is a dream come true. A true Master Suite with windows facing north, east and west. No lack of space here with bedroom dimensions of 20×19, 2 very large walk in closets with organizers plus a bonus area that is 11×7. The current homeowners both have need of home offices and the upstairs accommodates both quite nicely. The bonus room could also be a great nursery room or a space for yoga & meditation. The full bathroom has 2 sinks and a large tiled shower with double shower heads for spa day, every day! There is a 3rd bedroom on the upper level that also has a large walk in closet and sunny south facing windows.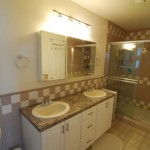 The basement can also be accessed from the interior of the home. There is a large utility room with washer & dryer, storage closet and the tuck-under garage for convenient bike, kayak, tool storage or for keeping your car parked since you sure won't need one often with this location. For more information on this home and to see all of the photos, click here. Or better yet, give your Realtor® a call and schedule an appointment to view it in person. As you can read, this home really offers multi-use options depending on your unique, personal needs.